Tanglebriar Nubians
The Tanglebriar Nubian goat herd lives on 30+ acres in the Flint Hills near Emporia, Kansas. My goal is to breed healthy goats with excellent temperaments, good dairy conformation, and good milk production. I purchased my first two doelings in 2014 from Providence Hill Farm in Atchison, KS, and a third yearling in 2015 from Marmalade Hollow in Hutchison, KS. We added a fourth doe in 2017, as well as two herd sires. We hope to have new kids available in spring 2020.
The goats are very personable and there is never a dull moment with them around. Besides goats, I also have a flock of standard Cochin chickens which the goats like to push around. For more about me, the goats and my philosophy on goat herding and breeding, the Tanglebriar Tales blog has additional information.
Hello and welcome from the goats!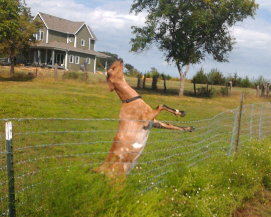 Registered Nubians
ADGA member
INBA member
Click here for herd records.
Happy, Healthy, Hand-Raised.